Secrets to How I Lost 7 Pounds in 7 Days on the Starch Solution Diet
I'm sharing the secrets of how JJ Smith's Apple Cider Vinegar Cleanse and The Starch Solution Diet helped me regain my health, get clear skin, and lose weight fast.
HOW IT ALL BEGAN…
I recently got some concerning news from my doctor regarding my health and it scared me.
After letting the news sink in for a few weeks, I decided I didn't want to live with an attitude of fear. I decided that I wanted to take control of my health and my outcome.
So I started on a health journey that included changing what I ate because I knew from experience that what I eat affects my health.
I had faced something similar in my 20s, and changing my diet totally reversed the negative health results. So I knew I had to return to what I knew would work.
And my results, so far, have been amazing.
In just 7 days, I gained more energy and felt better than I had in months. And some of my health problems had begun to subside.
But the unexpected results were that I lost one and a half inches off my waist, one inch off my hips, and seven pounds…all in seven days!
I still have a long way to go to meet my ultimate health goals, but I knew I was on the right path.
Wondering what I did to jumpstart my health journey and lose weight fast?
It all started with apple cider vinegar and the Starch Solution diet.
Here are the exact steps that helped me lose seven pounds in seven days and to begin my healing process:
APPLE CIDER VINEGAR CLEANSE
I hadn't been eating the best of foods–too much sugar, too many processed foods, and not enough fruits and veggies.
And I knew that my poor health was a direct result of the foods I had been eating.
I decided I needed to cleanse my body with a healthy detox and immediately thought of JJ Smith's 7-Day Apple Cider Vinegar Cleanse.
If you haven't heard of JJ, you need to meet her. She was a frequent guest on the Dr. Oz show and has a huge group of followers in her Green Smoothie Cleanse Facebook Group (check out her 10-Day Green Smoothie Cleanse book too).
Her apple cider vinegar cleanse is designed to "rid the body of toxic overload, jump-start your weight loss, and reverse long-term ailments while improving gut and skin health," as stated in her book.
And I can attest that this claim proved true for me.
The Results Of The Apple Cider Vinegar Cleanse…
At the end of the cleanse, I felt more energized, and cleaner on the inside. Also, my skin was brighter, clearer, and more radiant.
And did I mention that I lost 7 pounds in 7 days (I'm so excited about that part)?
JJ Smith hosts a group cleanse in her Facebook group each month which is motivating, supportive and informative. It was the secret ingredient that helped me stay on track during the cleanse.
Oh, and you don't just drink apple cider vinegar for seven days. She includes a meal plan for each day of the cleanse that nourishes your body while supporting the detox.
There are a few options, so I followed the meal plan that was closest to the Starch Solution diet (more on that later) in order to ensure the healthiest of results for me.
But here's where I went wrong…
So the meal plan includes a few healthy fats like nuts. There are certain types allowed in specific amounts. Well, I got "grown" and decided to get a few extra nuts on some days and I even substituted a favored nut over the listed on several days.
Well, let's just say I probably would have lost 10 pounds or more during the cleanse if I had strictly followed the instructions.
Please learn from my mistake.
The apple cider vinegar cleanse is for anyone wanting to jump-start their journey to optimal health and permanent weight loss.
Here are the resources you need to get started:
RESOURCES
Get started with the 7-Day Apple Cider Vinegar Cleanse book which gives you all of the details you need for this detox system. It's a great way to rid your body of unwanted fat and toxins and learn how to lose weight fast–from 5 to 15 pounds in 7 days.
Supplements
To support your body while on the cleanse, JJ recommends the following supplements:
A mineral/electrolyte supplement is also helpful to ensure that certain bodily functions perform at optimal levels, like Dr. Berg's Electrolyte Powder.
To help you keep your energy up throughout the day, JJ recommends a vitamin B complex supplement. This is the one I took and loved since it was as close to natural as I could find.
An omega-3 supplement is recommended during the cleanse to increase your heart-healthy fats. I simply added ground flaxseeds to my breakfast every day. However, if you prefer a pill, I like this omega-3 supplement by Nordic Naturals. It's the same brand I used to give my son as a supplement because it's free of harmful additives.
Facebook Group
I highly recommend joining JJ's Facebook group for support during the cleanse. It seems that everyone in the group wants each other to succeed and cheers everyone on their journey.
THE STARCH SOLUTION DIET
It was during the apple cider vinegar cleanse that I lost the first seven pounds in seven days. I had gained so much during that week–energy, improved health, less weight–so I wanted to keep the momentum going.
After ending the cleanse, I immediately started eating a plant-based, whole-foods diet that's starch-rich. I based my meals on the guidance given in Dr. John McDougall's book, The Starch Solution, or as some call the McDougall diet. Following this diet, I went on to lose another 7 pounds in 7 days.
You may be wondering, Is the starch diet healthy?
Believe it or not, a starch diet is healthy. But what matters most is what you don't put on your starches.
The Starch Solution diet teaches you what not to add to your starches so you improve your health while shedding pounds.
And you'll quickly learn that the starch diet is healthy.
Can You Lose Weight Eating Starch?
Following the starch solution diet meal plan outlined in Dr. McDougall's book, I went on to lose an additional five pounds over the next two weeks while eating all the healthy carbs I wanted–no portion control. And my skin lost its oiliness and looked dewy.
What Can You Eat On The McDougall Diet?
I ate starches every day during the cleanse without the added unhealthy fats. Now, I actually plan my meals around my favorite starches–potatoes, brown rice, and whole-grain pasta.
And creating a starch solution diet meal plan is easy since the book includes almost 100 recipes.
The Starch Solution Diet Results
I'm still following the Starch Solution diet and am feeling great. I weigh myself only once a month, so I don't have a current weight loss number. However, I can say that my health continues to improve and my clothes are fitting much looser.
Another side benefit is my skin is acne-free and radiant thanks to this diet (and my DIY skin care recipes).
So, can you lose weight on the McDougall diet by eating starches? Yes, you can–if you eat them the right way, and The Starch Solution book will show you exactly how.
And there are thousands of other people whose starch solution diet results are positive like mine.
To help you have positive results too, here are some resources I found that helped me with this plan:
RESOURCES FOR THE STARCH SOLUTION DIET
By following the diet outlined in The Starch Solution book, you can keep the carbs and still lose weight. This starch-based diet can prevent many sicknesses, help you lose weight, and even reverse common diseases.
And, as I mentioned before, with the starch solution diet meal plan outlined in the book, you'll find almost 100 delicious, affordable and satisfying recipes to add to the included weekly menu planner.
Facebook Page
Dr. McDougall's Facebook page offers great information from studies, testimonies, and personal experiences. I highly recommend liking this supportive and informative page.
Starter Kit for the Starch Solution Diet
I call this the Starter Kit, but it's actually a list of the basic kitchen equipment and pantry staples you should have on hand to help you in following this meal plan. Having these items can make the difference in whether or not you stick with the plan and get the results you want.
Some basic items include parchment paper for non-stick baking. I absolutely love these things. You can find them at your local grocery store or online.
These also are good for wrapping food under aluminum foil for the freezer.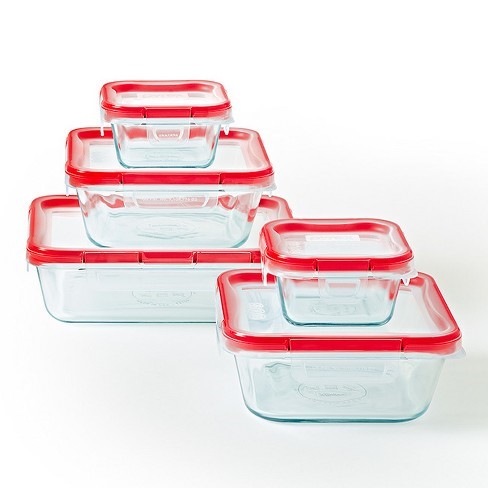 Storage containers are so useful, especially if you like to batch cook on the weekend and have meals ready for reheating during the week. I chose some divided containers for meal planning and some larger, glass containers for storage. You can click on the images below to learn more.
Bakeware
Nonstick baking pans will become one of your favorite kitchen tools. From baking potatoes to healthy desserts, the nonstick pan can do it all. Pair it with your parchment paper for best results.
Here are two options I found and I've used both:
I love the Calphalon Nonstick Bakeware because it's so sturdy and durable. However, the Circulon Total Bakeware is nothing to sneeze at. It's made with PFOA-free metal and is utensil safe. Its premium nonstick surface features raised circles for superior food release and effortless cleanup.
Cookware
A good non-stick pan is absolutely necessary because with The Starch Solution diet plan, you're eliminating products with concentrated, high-fat content, like oils.
Two of my favorite brands are the GreenPan Ceramic Non-Stick Cookware and the Ozeri Stone-Derived Non-Stick cookware.
Blenders
In order to make certain plant-based dishes more effectively, you'll need a powerful blender. I learned the hard way (after blowing the motor on two low-powered blenders) that a powerful motor is key. Here are some of my favorites:
The Ninja Mega Kitchen System (learn more here) and the Vitamix Explorian Blender (learn more here) are two of my favorites. There's a pretty big price difference, so choose the one that best fits your needs and your wallet.
One that I use daily for smaller recipes is the Nutribullet. This little blender is powerful and handles recipes like cashew cheese and my favorite Cacao Coconut Smoothie Bowl. And it's very affordable.
Another contender that I haven't tried yet but have heard good reviews about is the Blendtec Professional Grade Blender. It's priced in between the Ninja and the Vitamix, so it gives you another option.
Quick Cooking
These next two items are not a necessity, but they sure do make cooking so much easier. They are a healthy option for preparing food without standing over the stove.
I absolutely love my Instant Pot. I cook soups, rice, stews, oatmeal, beans and so much more in my pot. It allows you to batch cook and then store meals in portion containers for later in the week.
I also have this cute little Dash Compact Air Fryer. It was a gift and I use it often. My kids love making french fries and hashbrowns in it. Though it's convenient, it is small, so if you want to air-fry bigger quantities, I'd recommend finding a larger one like this one I ended up buying as well:
I absolutely love this Ninja 9-in-1 Digital Air Fry Oven. It toasts, air fries, air roasts and so much more. And it has great reviews on Amazon, so it's worth checking out.
But don't worry if you don't have these items. Just start with what you have and do the best you can. The main goal is to cleanse your body for better health.
So there you have it. My guide to obtaining better health and losing weight with the help of the Apple Cider Vinegar Cleanse and The Starch Solution diet.
Pin this for later: